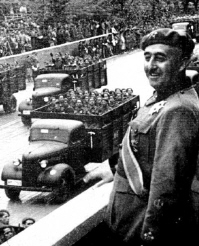 İspanya'nın kuzeyinde Bask bölgesindeki Katolik Kilisesi, diktatör Franco rejimi karşısında Katolik Kilisesi'nin sessiz kalmasından dolayı özür diledi.
haber
The Bask Catholic Church apologised for their silence in the Franco years...
info

Türkiye Yeşilleri 3. köprüyü protesto etti!

[1]

haber
[2]
basin aciklamasi
Greens of Turkey protest the third bridge over the Bosphorus, asking, "Has the second bridge solve the traffic problem?"
Ne mutlu Kürdüm, Ermeniyim, Aleviyim, Çerkezim diyene... (İlköğretim okullarında okutulan 'Öğrenci Andı'nın kaldırılması için kampanya başlatan Mazlum-Der, mizahi bir dille hazırlattığı afişleri Diyarbakır'da astı). [1]
haber
[2]
unuttuysanız andı hatırlamak için burayı tıklayın!

Mazlum-Der starts a campaign against the nationalist (if not racist) student vow, still used at primary schools...


12 Eylül ve Kenan Evren ismi davalık. [1]
haber
[2]
ayrıntı
The use of Kenan Evren's name in public spaces is sued. (I wish they sued the generals themselves, but suing their names is also a good start) info
Londra'daki G20 protestoları: iş, adalet, iklim
G20 protests in London: jobs, justice, climate